Transforming an LMS Group Wiki Assignment to VoiceThread
This is a guest post by educator and VoiceThread Certified Educator, Curtis Izen.
Each semester, I try refining or creating a new assignment.  In my online MIS course, the students are grouped into teams of 4-5 students. Their assignment is to create a group wiki on an emerging technology in business. Using the wiki tools from their LMS, they are tasked to add any multimedia, text or links to make their wiki as engaging and informational as possible. The end result is threefold:  (1) they learned quite a bit from their research, (2) the wiki doesn't appear striking as it could be and (3) there is no verbal collaboration with the final product.
My goal was to change this to a more interactive and dynamic activity. First, I had the groups do the same assignment, but in a PowerPoint presentation. This was a tool they were already comfortable with. They were able to add mashups and were not limited by the tools from their LMS. This also provided them with a marketable skill where they learned new features.   
Using Google Docs, the teams worked on their PowerPoint presentation. When approximately 2 weeks were left to the semester, these PowerPoint presentations where then converted to PDF. Subsequently, they were uploaded to VoiceThread. Once in VoiceThread, each group was tasked with the following:  every slide needed a voice comment.  In addition, at least one of the slides needed to be a video comment from every member in the group. Doodling and Multi-slide (M/5) comments was encouraged.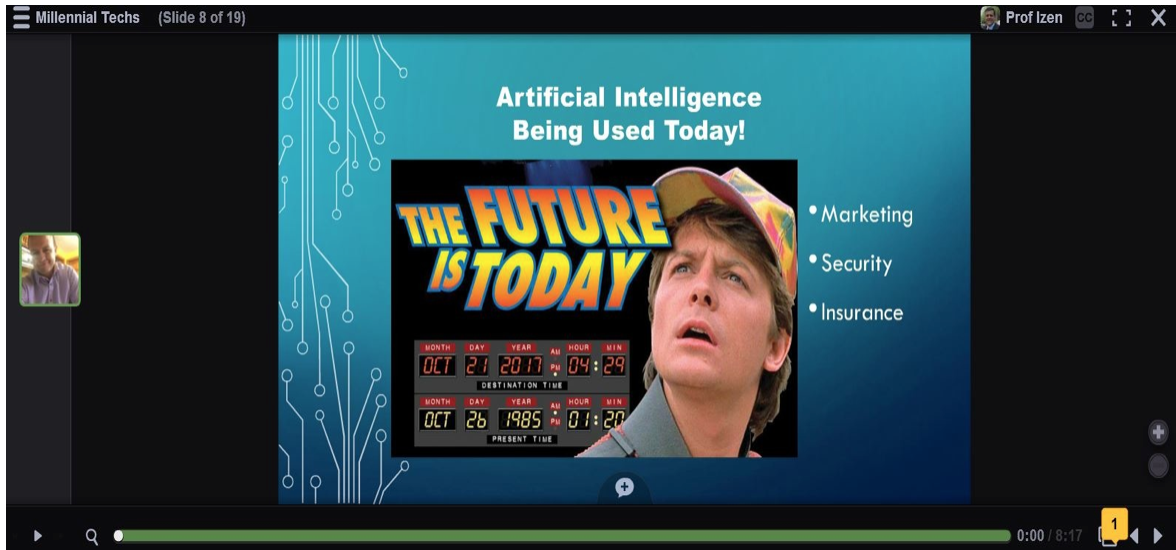 When the assignment was due and no further edits were permitted, I opened up all the groups VoiceThreads to the entire class. My next assignment is really where VoiceThread excelled. Every student needed to watch and go through all of the VoiceThreads including their own. I created a final slide on each VoiceThread which was a comment slide.  All students needed to do a voice or video comment on what they (a) learned from that VoiceThread regarding the emerging technology and (b) what they liked or felt needed improvement on the VoiceThread presentation.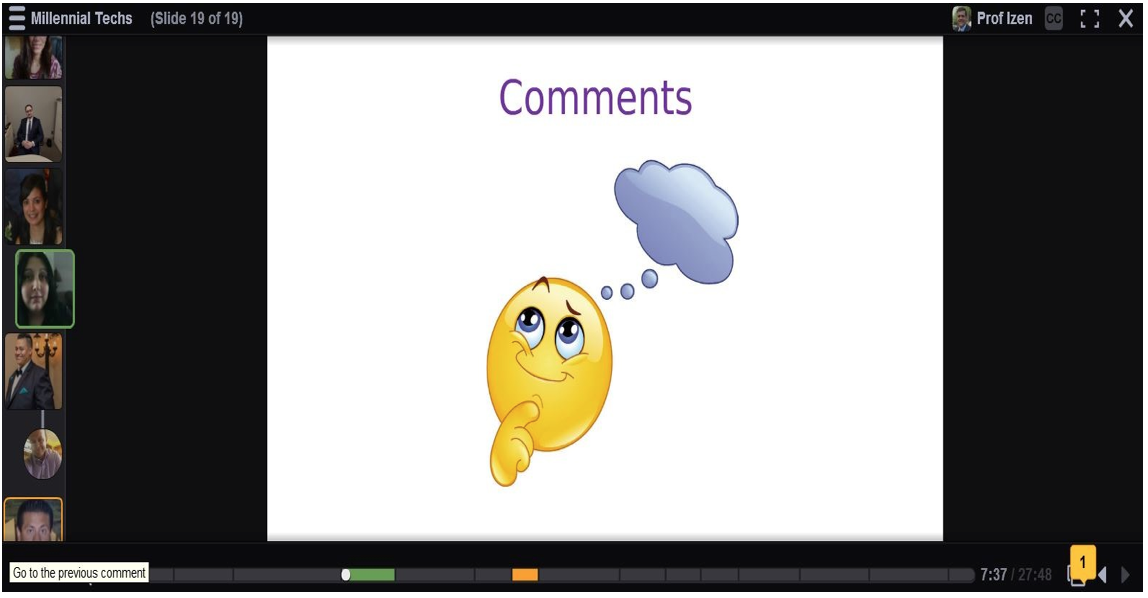 I was astonished hearing how much they learned from other classmates. On a number of occasions, students responded on their classmate's VoiceThread how they were going to use the presented technology in their own business or life. It was also enlightening hearing how student's learned from listening to the critique on their own VoiceThread from their peers. 
Take inventory of your current assignments. If you find that there are one or more that lacks engagement or collaboration with the class, consider how VoiceThread can make that happen.
---
About the Author: Curtis Izen is a senior information associate and VoiceThread Certified Educator. Curtis adjuncts online and face to face courses at Baruch College and the School of Professional Studies at the City University of New York. Curtis is passionate on bringing new philosophies and technology into the curriculum. He is a 2 time recipient of the Presidential Excellence Award for Distinguished Teaching and Pedagogy at Baruch College.