Break down your classroom walls: Global Debate
This is a guest post by educator and VoiceThreader, Aaron Maurer.
One of my favorite projects is almost underway. Over 700 students involved in our Revolution Debate project are about ready to embark in a powerful learning project.
This is a project that started small two years ago. Two years ago teachers in our building created a debate on the topic: Revolution – Is It Justified? At this time we had students debate each other from separate classrooms. This was a great start, but we knew there was something special and could go bigger.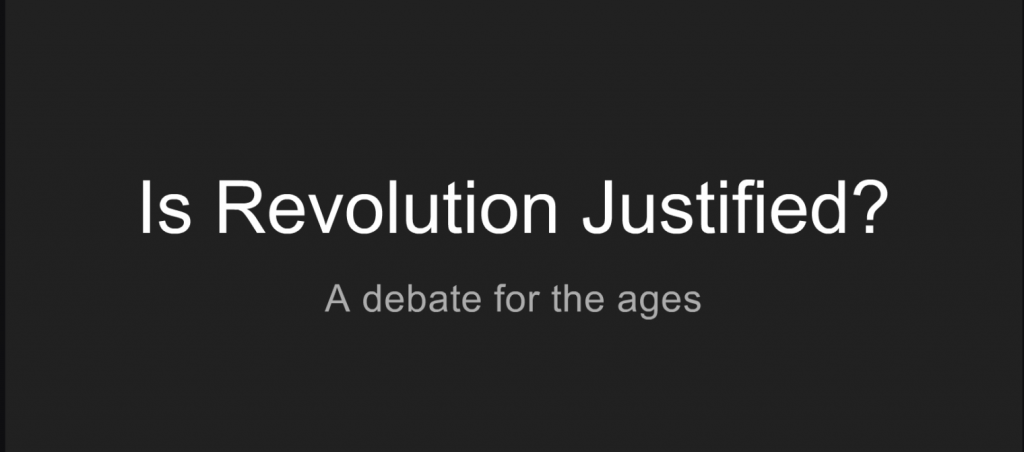 Last year we opened up the debate to the world. We had over 800 students involved. We had 9 different locations from around the USA. We had students doing all the judging to eliminate bias and another 800 debating the topic. It was powerful. We saw a spark in the eyes of students we had never seen before. There is that moment when you state your opening remarks and someone you don't know voices a rebuttal stating how everything is wrong that just fires you up. And in a good way. It is something that is difficult to replicate alone in your classroom.
In a post from October 2015I posted the following
PLN Support #1: I am helping operate a debate project on the American Revolution. During this process leading up to recording the first speakers this week we had a few classes drop out. It was not a big deal. After a crazy set of circumstances we had another teacher drop and with that left us with over 180 students and 60 teams empty with nobody to debate. I put out a plea asking for any teachers to possibly jump in and help last minute. Within 48 hours I had two teachers who I have never met before or worked with in my life step in and make things happen to allow students to learn, develop their skills, and not be let down. Because of my PLN who read the plea and then went to their schools to connect with other educators we now have a debate of over 800 students pushing their thinking and learning to new levels. We also have educators building their own PLN through this debate sharing resources, teaching ideas, and learning together. Without my PLN, this debate fails and a lot of students lose out on a quality learning opportunity.
The beauty and headache of a global project that goes beyond surface level learning is the coordination of events. Already this year, we have a teacher who has lost internet. We will all rally to help make things happen and work for everyone. And this is what I love. A built in global powerhouse of educators coming together working hard to do what is best for kids. Students and teachers are involved in a process where real world (I hate to use that phrase, but much of education is simply simulation) learning takes place. Teachers have to collaborate. Students have to adjust. Technology breaks down. People don't do work. And through it all perseverance is developed and powerful learning takes hold.
As an instructional coach I am able to sit (not really sit, but deal with logistics) behind the scenes and watch it all develop. It ignites my love for educators who bend over backwards to make things work. It ignites my passion for showcasing that students can do more than we ever imagined if just given the chance.
Speaking of bending over backwards, this project would never happen or work without VoiceThread. There is no tool on the market that currently allows us to do what we are doing. VoiceThread works smoothly and flawlessly. The ability to record audio, load up text to showcase our research, and leaving a space for judge feedback is amazing. Students can record to VoiceThread using any device, tool, or phone as long as they have internet. Mix this tool with an amazing help support from the company we simply could not do this project. If you have not used VoiceThread, then I suggest you check it out. It is a tool that leverages the power of global collaboration.
Looking forward to this year we are currently sitting at over 700 students with classes that span all over the USA as well as India. We will be debating asynchronously, but still mimicking a live debate. Students will listen to one speaker and respond within one hour of listening to mimic live debates as much as possible.
We will have room to add other classrooms. At this point we could really use about 60 more students to balance the sides of the debate.
My challenge to you is to bust down the walls of your classroom. Allow your students to connect with other students. Allow them to showcase their learning and skills. Allow yourself as an educator to build up your PLN by connecting with other powerful teachers who share your passion for teaching. Allow the learning in the classroom to have a built in real audience. Allow the the learning to have a purpose. Allow it all to happen with tools that readily available like VoiceThread.
130 debates are ready to rock and roll. Students are building up their cases or will be soon. Speakers will begin recording in the next week and the games will begin. Which side will win – Affirmative or Negative? A lot is on the line and all in the power of learning. Come join us. Sign your students up or let them be a judge, or simply follow along on the journey. Each year we scale and build. None of this could happen without the teachers who are involved pushing the boundaries of learning and teaching. None of this could happen without the technology that bridges the classrooms like VoiceThread. None of this was possible 10 years ago, but it is all at our fingertips today. Don't make excuses anymore.
If you want to learn how to get started, then you can start here or simply join this project and we will support you along the way.
---
About the author:
Aaron is an educator for Bettendorf Middle School located in Bettendorf, Iowa. His current role as an Instructional Coach allows him to help teachers develop high quality projects in a PBL school. Aaron helps oversee a makerspace and using this space to help students bring their learning to life.