A Global Collaborative Project for Grades 3-8
This is a guest post by VoiceThread Certified Educator, Christine Trimnell.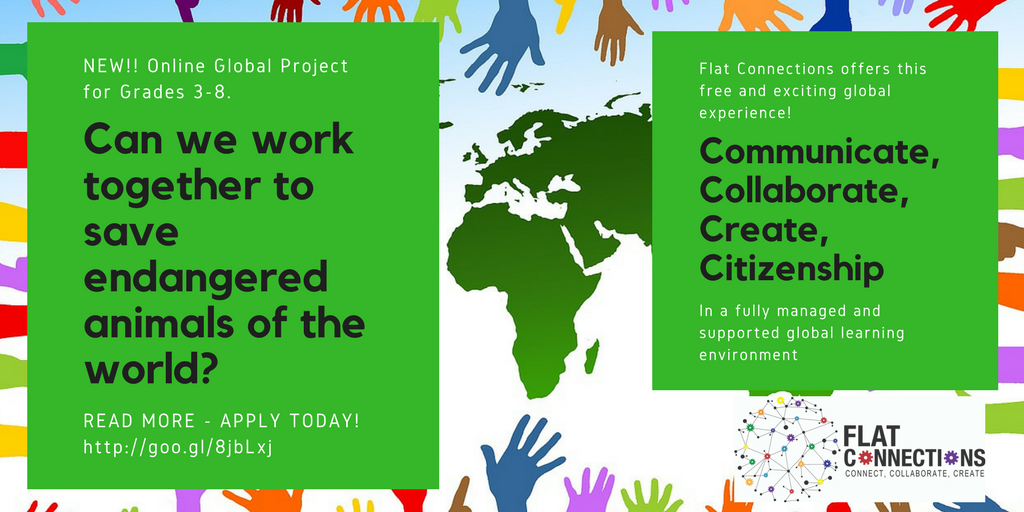 Have you ever participated in a global project before?
If you answered 'no' then this could be your opportunity to trial one!
We are looking for 16 classes across the world to 'have a go' with their students (grades 3-8).
Topic: Can we work together to save the endangered animals of the world?"
Objective of Project
To provide an opportunity for teachers who are new to online global projects to participate and gain insight into the many benefits of joining such projects.
Subscription cost: FREE!
Description
This free online global project (offered twice in 2017) and managed by Flat Connections will provide educators and students the opportunity to work with others from different schools to satisfy curriculum objectives across a range of subjects. VoiceThread is a perfect tool to use in global projects as it allows students to communicate, collaborate and co-create across countries. It will be one of the main tools to be used in this new project.
The collaboration will explore and share understandings and research around the following:
Interdependence of living creatures
Sustainability of animal environments
Evaluation of past and current practices on animal survival
Design of possible solutions for future action
Why should you join your class to this global project?
This project is designed to meet standards and learning objectives across different systems and countries including:
Literacy and digital technologies objectives
Sustainable development goals (UNESCO)
Global competency and Intercultural understanding
21C skills and understandings
Effective online global collaboration practices and strategies
(NOTE for Australian Schools: Click on this link to see a table of specific curriculum tie-ins. You'll be amazed at the curriculum objectives that can be satisfied!)
Project Details
The project will run for SIX weeks (preceded by a week of teacher preparation). In this time educators and their students will connect, share and collaborate around project design and implementation.
Details of the project, dates, and an application form can be accessed via:
http://tinyurl.com/end-animals-global-project
---
About the Author:
Christine Trimnell is an ICT Specialist at Pakenham Lakeside Primary School in Melbourne, Australia. Christine is the co-writer of the above project and she is passionate about the benefits of participating in well designed and managed global projects. She was therefore thrilled by the recent announcement that named her as an awardee of The Great Global Project Challenge:
https://medium.com/gec-network-musings/ggpc2017-cc30c4d9ac38