2020 was challenging for everyone, but it was also a time of unprecedented collaboration, innovation, and mutual support. We were inspired by how quickly and passionately educators worldwide answered the call to keep their students safe while not compromising their physical or psychological health. Everyone worked outside their comfort zone at some point by moving fully online, observing social distancing, building hybrid courses, and handling student and faculty anxiety. We are honored to be part of that effort and are excited to share what we've been doing.
2020 in Review
---
Growth Behind the Scenes
We had a lot of goals for last year, but one we didn't expect was the explosive increase in demand when the entire world went online in March 2020. Overnight we tripled and streamlined our infrastructure, performed extensive database maintenance, and brought on additional staff to assist with keeping everything working smoothly 24/7. It was a stressful time, but we are proud to have remained fully operational without a single outage. This was trial by fire, and it has left us more than prepared for 2021.
---
New Assignments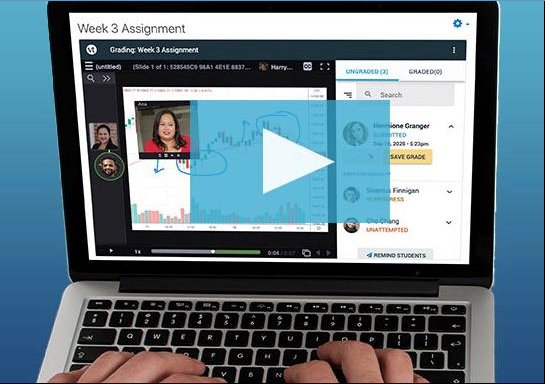 October 19 was a massive day of celebration at VoiceThread. Our new assignments feature, which has been in the works for several years, was released in full. Many courses and institutions have already adopted it, and we encourage you to check it out, too!
This update offers a huge number of new features and streamlined workflows, including:
A streamlined interface
More control for instructors
Editable assignments
A "student gallery" so students can easily see classmates' VoiceThreads
Better feedback for students
Much more!
Anyone using an LTI integration in their Learning Management System can use the new assignments features. You can even opt in when the timing is right for you. If you haven't opted in by June 30, 2021, that is when your course will be updated automatically.
Check out these resources for everything you could possibly need to excel with new VoiceThread assignments:
---
Mobile App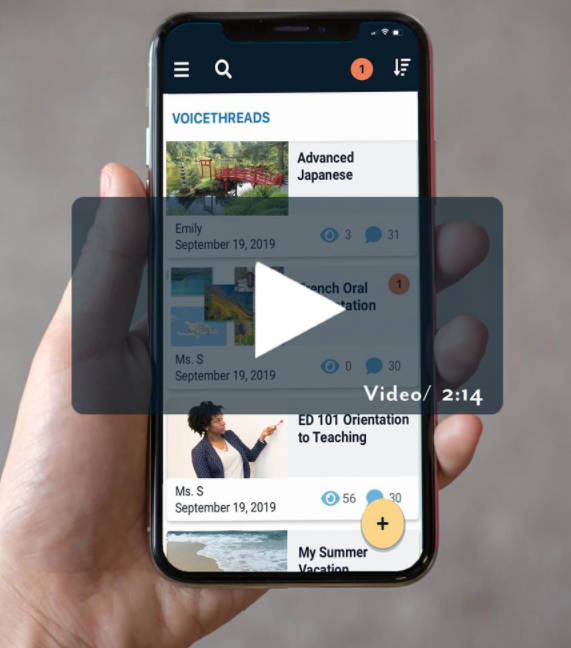 The new mobile app is here! This major update to the mobile VoiceThread experience was first released in March of 2020 and has since been updated to continue introducing new features and enhancements many times.
Updated look and feel
A clean new interface makes navigating through your VoiceThreads more intuitive. We've streamlined workflows and added more features to help the app work just like the desktop version.
Better organization
Sort your VoiceThreads in any way you'd like, including a new "most active" category that makes your current VoiceThreads available at a glance. We've improved searching, browsing your courses and groups, and account management.
Accessibility
Version 4 adds improved closed caption displays, better compatibility with mobile screen readers, and the option to translate the interface into multiple languages.


---
Zoom Integration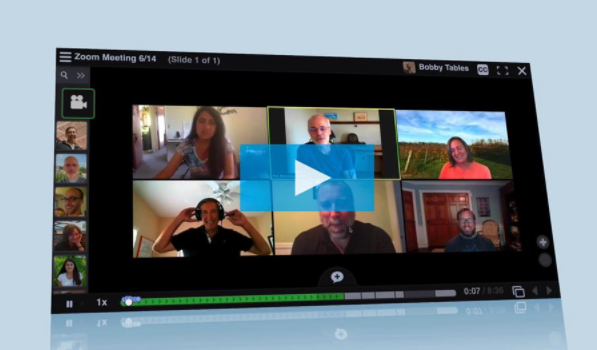 VoiceThread affords easy unscheduled human interaction, but sometimes you need the rapid back and forth that's only available in a live meeting. Our integration with the Zoom web conferencing platform allows you to pull in any live meeting that you've recorded so that you can not only share the conversation with people who missed it, but more importantly, continue to extend the conversation over time.
The Zoom integration is included in our Platinum Service package, along with automated closed captioning, double the customized training, and more! Please contact us if you would like to add this service to your license.
---
VT Universal + Accessibility
The new and improved VT Universal is here! In partnership with many of you and outside accessibility experts, we have redesigned the experience from top to bottom to meet emerging standards, improved workflows, and a strong foundation for future development.
What is VT Universal?
It's an application that is fully accessible to screen readers and an interim way of interacting with the same VoiceThreads you use in the default experience. It is the first thing a screen reader will detect on VoiceThread's website, and it can be set as your default if you rely on a screen reader.
What's new?
In addition to an overall update in design, page flow, and contrast, we have added:
Sorting options
Import from media sources
Full access to all playback settings
Slide replacing and editing tools
Delete a VoiceThread
Basic stats for VoiceThreads
Full-screen mode
Delete comments
Create and view/hear threaded comments in context
Closed caption and transcript support
Copy VoiceThreads
---
LTI Advantage
LTI Advantage (also called LTI 1.3) is the next generation of integration in learning management systems. It will replace the current LTI 1.1 eventually, and it is a great foundation on which the standard can continue to evolve. VoiceThread has full support for LTI 1.3, and a number of institutions are using this already. Our implementation includes:
Full integration with every compliant LMS
Complete roster sync, which supports adds and drops seamlessly
Automatic copying of template course content
The transition from LTI 1.1 to 1.3 isn't fully supported in every LMS yet, but it is supported in Moodle as of today and will continue to evolve as other LMSes add support. Please contact us if you are a Moodle administrator and would like to update now.
---
VoiceThread Certified Educators
Since our very first cohort in the summer of 2015, hundreds of educators have participated in our two-week course and completed a formal capstone project to be certified as VT experts. This group of passionate educators has become a community centered around strong pedagogy, student support, and online innovation. This year we hit two major benchmarks: we have run 50 cohorts and certified over 500 educators. That's huge!
If you'd like to participate in a cohort in 2021, add your name to our waitlist to be notified when new spots open up.
---
Security
Security is an ongoing project that never ends, especially as the world rushes online even more quickly than anyone expected, but there are also some major benchmarks every year. Here are some of those from 2020:
Retired TLS 1.0 and 1.1
Retired old LTI endpoints
CDN update to fully retire all Flash video
---
Coming in 2021
2020 was a year of huge new features and foundational work. 2021 will be the year of enhancement, fine-tuning, and expansion. We are so excited to have these powerful new frameworks to build on, and we can't wait for you to see the things we have in the pipeline.
---
Mobile Updates
Now that the framework for our new mobile app is up and running, we have many new features and optimizations in the pipeline.
ThreadBoxes: In a world where we can't run in-person conferences, summits, and research days, asynchronous presentation and conversation tools are essential. We've seen some incredible uses of ThreadBoxes, or public display spaces for collections of VoiceThreads, to run virtual conferences already, and the next step is to make those experiences mobile.
Grading: Students can already submit their formal assignments from the app, and our next step is to enable grading. We know instructors are always on the move, and being able to assign grades from anywhere is important.
Mobile Browser access: Now that the entire VoiceThread experience is in HTML5, we can start to support playing and commenting on VoiceThreads in your mobile browser instead of requiring the app. While an app can provide an optimized experience, not everyone wants to install an app, and it's important for quick access not to require it.
---
Universal Features
The new version of VT Universal is an exciting starting point for our entire accessibility trajectory. Up next is:
Sharing options
Tighter LMS and assignments integration
Managing groups and contacts
Visit the full support page for full details.
Longer term, over the course of several years, we will be merging the Universal and "Standard" versions of VoiceThread into one single application that is accessible to everyone. This is just the beginning, and we're excited and passionate about building a cohesive and universally accessible platform.
---
Assignments: Generation 2
Formal graded assignments are quickly becoming the crux of how instructors use VoiceThread, and we're developing lots of new features and workflows to help make assessments engaging, robust, and more human.
Point-value grading
More flexibility with copying VoiceThreads
Late submissions
Option to require students to add slides to a VoiceThread
Customizable defaults
Display assignments on the VT Home Page
Much more!
We'll keep you updated as each new option becomes available so you can take advantage of them when you are ready.
---
LTI Advantage Transition
We mentioned above that Moodle is the only LMS that currently supports a smooth transition from LTI 1.1 to the new Advantage suite. We do know, however, that most LMSes are working on something similar, and we are partnering with them closely to test and implement those plans. As each LMS introduces a toolset plan that allows for a smooth transition without any breakage of current assignments, we'll notify you and help you plan your move.
---
New Purchasing Processes
We know the purchasing process isn't exciting, but it's oh-so-important to how you adopt VoiceThread at the right pace for yourself or your institution. We've completely overhauled our system to be more intuitive, more flexible, and even more secure. The best purchasing system is one you don't really notice, and we're spending a lot of time making sure this works so smoothly that you don't even know we're there.
---
Security
Online security is a complex and fast-growing area, and we take it very seriously. Serving educational institutions and students of all ages means we always need to be at the forefront of security standards. In addition to making sure we are continuing with the regular maintenance, updates, and standard compliance we do every day, our security goals include:
NIST 800-171 certification
Begin SOC2 compliance
Update all operating systems and PHP
Machine learning threat detection